Posted on November 03, 2011 by Marna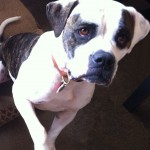 This morning, I was in front of Camp Canine waiting for an attendant to take Dixie when an elderly black man strolled by with a very tricked-out shopping cart.
"Excuse me goddess," he said.  I turned and looked at him, the dog, then back to him.  "Could you tell me what time it is?"
I smiled and told him it was 8:50 a.m.  "Thank you.  You and that cute dog have a blessed day," he replied as he rolled away.
My dog makes me very happy, but being called a goddess does a girl good prior to going to work.  I need to wear my nice ass jeans more often or hang out on skid row in order to get a decent compliment.