Posted on December 23, 2012 by Marna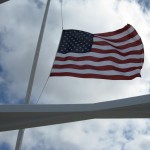 On December 7th, I had a young coworker come to me about a Facebook post he saw.  "Hey Marna, am I an ass?  A friend just posted 'Don't Forget Pearl Harbor' on his wall.  I just thought it was a little odd," he stated.
I thought about it, knowing a lot of these kids today, have parents who have not served in any war.  So, I framed my response in the form of more questions.  "Does he have family that was there or maybe in an internment camp?"  No, that was the crazy thing, thought my coworker.  "And, get this – he just became a naturalized citizen two years ago!"  I suggested that he remembers his history well and he is very proud to be American.
Nine days later, I was at/on/around/in Pearl Harbor and I have to say after a long, emotional day of history, we should not forget Pearl Harbor.  And I'm not talking Tea Party crazy, gun raised, "get the Japs" kind of remember.  We have to remember how the act incited a nation, which was practicing isolationism, to support and protect our freedoms.  Our military became stronger, our industrialization got even better, and women worked and supported their families and the men at war any way they could.  Maybe it's nostalgia, but we seemed like a cohesive nation back then.
When you go to Pearl Harbor, it's a quiet and respectful experience.  I watched old folks in wheel chairs get pushed up the ramp at the same time as babies in strollers.  We all wanted to see and understand the vastness of this underwater grave and what it represented.
Remember Pearl Harbor, every hour, every day that we live
Remember Pearl Harbor, and the crime we can never forgive
Through the sweat and toil
Through the blood and tears
Keep this battle cry ringing in our ears
Remember Pearl Harbor, let this song keep us strong through the years