Posted on February 27, 2010 by Marna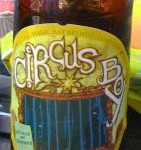 My friends keep me in check.  They also tease me about some of my more memorable dating and relationship decisions.
A friend in New York recently called me laughing from a bar.  "Oh my God, Marna.  Magic Hat has a new hefeweizen out called "Circus Boy."  What ever happened to that fucking tool?" he asked.
Pete remembers a six-month relationship I had because it was cluttered with mutual drama and ended with the guy leaving to join Ringling Brothers' circus band.  He was nicknamed "Circus Boy" by my friends and inducted into Marna's Hall of Fame.  Circus Boy taught me to never date career musicians, especially when they say, "but music is my mistress."
I was once at a Dr. Pat Allen relationship seminar (Mars/Venus type stuff) where she truly explained M/F dynamics in relationships.  When she had Q&A, I asked her what she thought of left-handed musicians.  I'll never forget her response, "If you want a thinking and rational man and you are in the feminine role, don't date a left-handed musician."  As a result of that advice, career musicians are on my banned dating list.
So, to answer Pete's question, I don't know what happened to Circus Boy.  Last I heard, he was quitting the circus, getting married, and settling in Las Vegas.  Eight years later, I can safely say I'd rather have a six-pack of Circus Boy than see Circus Boy, but my friends and I thank him for the memories.