Posted on June 08, 2018 by Marna
I thought I could last a while without getting another dog, but the older I get the more I know dogs are the best companions. And much more fun than dating.
When I was cruising Petfinder a little too frequently, I knew it was time. I wanted a senior dog, big was OK, but it was going to be non-shedding.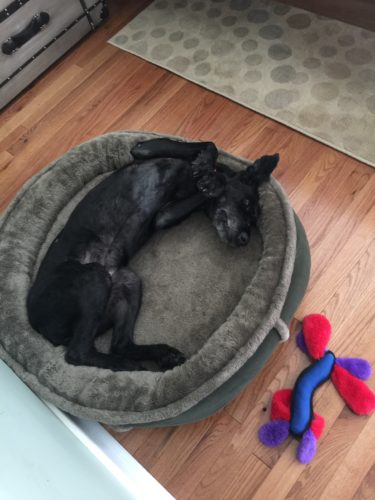 Roxy is a seven year-old, 65-pound "small" giant schnauzer. Her owner could no longer care for her and surrendered her to a schnauzer rescue. After a vet appointment, it's confirmed she has hip dysplasia. I'm a veteran in that department, so I'm going to work with her on exercise and NSAIDs. Her only bad habits are tugging on clothes for attention, counter surfing and trash diving.
I know men with worse habits!  She's a keeper.