Posted on March 23, 2018 by Marna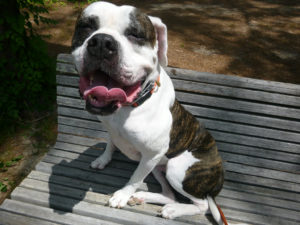 You filled the void that was left by Tex – my first big dog adoption during the California housing crisis. Your rescue led to a Facebook contest to rename you (WTF Carla?) and Aunt Holli won with "Dixie" – naming you after a region like Tex with a play on the letter X.
You helped me recover from all the Sonos product launches and you taught me a walk on the beach and the toss of driftwood was the best escape. Your socialization skills needed great improvement, but they always made me laugh. (I have a hard time with Asian women in clanky heels too. And it's hard to like men with trucker hats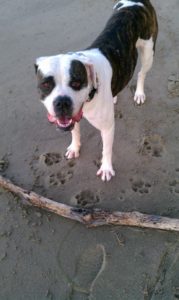 and beards.)
You may of been fearful of other dogs, but you always stopped to let the homeless and handicapped pet you on State Street. The kids at the illegal daycare next door loved perro grande. You loved the ladies and were cautiously optimistic about my male friends.
Your first road trip was to visit Marna V1.0. You quickly learned the central coast was a great escape. Like your predecessor, you patiently waited for us to hit our vineyards because we had treats for you on the backside. I feared our east coast relocation would upset you, but you were always eager for a "car-car". You didn't care as long as you were with me. I will never forget night two in Albuquerque when you jumped from one queen bed to the other, like a hyper 'tween. The next morning, when you twinkle-toed through frost-covered grass, I worried you wouldn't be able to handle Virginia weather.
Your move to Virginia was when you learned to give no fucks. You were middle-aged like me and you just wanted to take long walks and nap in the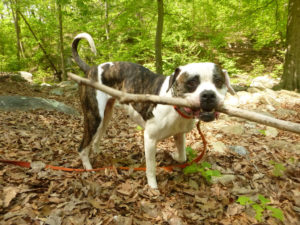 sun. Snow was fine, but cold rain sucked. You made great friends like Ellis, Dottie, Jewels, and Vulcan and had great admirers from afar like Stoney, Elvis, and Roxy. Your party skills expanded. Three was once a crowd, but eventually you learned you could handle a dozen drunk humans.
I will miss your call-and-response moans during my infrequent sexual encounters and I thank you for not jumping on the bed to save me mid-act. Your orthopedic bed will remain by mine as a reminder that a good mattress and good sleep are better than a night of bad sex.
I will miss your twist-and-fart moments when you looked to blame me for what clearly came out of your ass.
I will miss your log-sawing snoring which was like a wave machine to me and it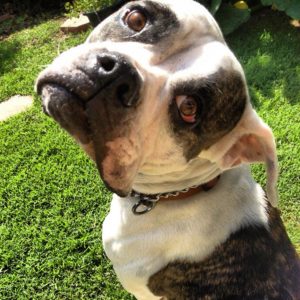 always calmed me down.
I will think of you any time I'm in a meat section with 3" marrow bones or when I bake a sweet potato.
I will think of you when I turn on the TV and ask "what do you want to watch?"
I will think of you every time I'm in Jefferson Park. You have marked nearly every square inch of grass; therefore, your ashes will be spread there.
I hope you sleep sound, Dixie, for you will be missed. You hung in there for me and tried so hard, but eventually I knew it was time. I hope you find great friendship with Newman, Kramer, and Tex because I know they'd love you as much as I do.
Goodnight, sweet girl, goodnight.