Posted on March 31, 2011 by Marna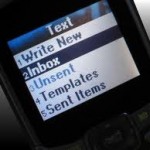 There is your garden-variety texting.  Then we have drexting:  driving and texting (or is that drunk texting?).  Now I'd like to add whexting, whacking off and texting, to the urban mobile lexicon.
310-xxx-xxxx:  I know u dont remember me and you dont have to txt me back i just wanted apologize. i always had a lot of fun with you.
This number wasn't in my contacts.  When I date someone, I wait six months then delete just to avoid calls and stalking.
Me:  Who is this?
310-xxx-xxxx:  Dude you didn't have to txt me back. I was watching porn and saw a girl with red hair and it made me think of you.  You made an impression on me.
Me:  Wow. That's some impression. Best of luck self-pleasuring. Text me again in another four years.
Just when I think I'm out of material, they re-appear.  I wonder if he had his keypad on voice command.