Posted on November 08, 2010 by Marna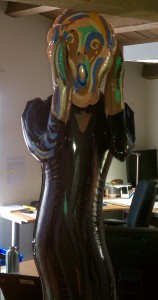 I woke and treated SB Man's body like a jungle gym to the point where I knew I didn't have to go to 24 Hour Fitness.  And, honestly, sex is a much better way to get the heart rate up, right?
Little did I know, a couple hours later my 50-inch Munch "The Scream" blow-up doll would arrive at the office. Without a bike pump or other tool, I proceeded to administer mouth-to-ass plug resusitation in order to reanimate my flat fellow.  About 10 minutes later, Scream was nice and tall and sitting on my desk, greeting everyone that came to marketing.
I was outside contemplating tobacco.  It's been a long time since I've blown that much on a Monday.