Posted on December 28, 2015 by Marna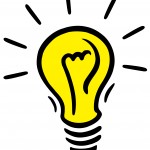 Driving home after Christmas on I-95 is no treat. It gets worse when you look at traffic maps and see red lines from south Jersey to northern Virginia.
I was presented with a gift 30 miles from home after already being in the car eight hours. I felt that weird, oh-crap feeling and pulled off to a McDonalds only to discover my worst fear – my period started. I no longer carried supplies and the bathroom had no dispenser, so those recycle brown napkins with the embossed 'M' went between my legs.
I probably jinxed myself this fall when I was cleaning my closet and decided to toss all my B-team period panties. It had been eight months and odds were IT was not coming back. But, like Punxsutawney Phil, it's back so I think I have at least one last winter of bad lady times. And there's nothing like ringing in the new year with a Super Plus.