Posted on November 18, 2015 by Marna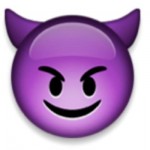 I can write good headlines. I can sell you shit you didn't know you needed. I can write a lead that will get an editor to call. And I can write a cute note about your OKCupid profile that will make you click the reply button or swipe right.
Greg was the first guy EVER who matched me 96 percent on OKCupid. That just means we had similar quiz answers. But his profile was hilarious. I was inspired to write him which I don't like to do. I don't chase men. My mother taught me that one. But she's dead and my boobs aren't getting any perkier, so I'm changing my ways.
My opener was "You are like me except you have a penis." I know. I know. But he wrote back and we eventually met for dinner. He wasn't a super available guy with two teens and a business, so I didn't see him again until he came up on my Tinder prospects. I knew that headshot. His profile stated he was looking for "Someone like me, except with boobs." So, going out with me got him a good edit. I got a salmon salad.
Tinder recently changed its algorithm but today I wasn't so sure. Raul, an ex- from 14 years ago popped up. I thought I reached the end of the internet when LinkedIn recommended I friend my ex-husband. Maybe I'd circled back around today. I messaged Raul and told him about my WTF Tinder moment.
He decided to change his location to Richmond thinking he'd eventually run into me. "I thought you would show up after 100 swipes. You were the first one! I said to myself, 'that ho.' You are the face of the fucking Richmond dating scene," he messaged to me, through Tinder, after he kiddingly asked what I was wearing.
So, after two years here, I'm still single. Clicking and swiping has made me the face of Richmond dating.