Posted on February 10, 2014 by Marna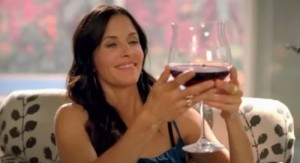 My biggest fear when I moved to Virginia in the winter was exercise.  I know, I know. But in Santa Barbara and Los Angeles I did a lot of walking and hiking. To move and immediately get hit with single-digit temps was scary.
Five additional pounds later and I developed a solution based on my age and physical capabilities. Your Layoff Lady of Leisure / Heiress bought an elliptical trainer. I created a home gym in my second bedroom. I hate going to gyms and this is the only piece of equipment I've always loved. In a week, my FitBit tells me I've gone 45 miles and shed 2.5 pounds. I credit new sneakers and a reduction in my Cougar Town-sized glasses of wine (except when it snows).
I'm not sure what you are supposed to do when you inherit money, but I know my mom, who has told me to lose weight my whole life, would have approved of this purchase. Giving up excesss volumes of wine? She'd question that.