Posted on September 24, 2012 by Marna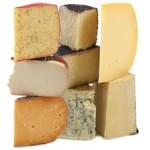 I was vegan for six months before I moved to Santa Barbara.  I fell off the wagon when I began to date a guy who could cook and had a gas grill the size of a double wide.  Carne asada was my new best friend.  That relationship ended, buy my affair with meat continued.
One thing I did without just fine in Santa Barbara was sex.  I recently decided that if I could go 18 months without sex, it was probably time to rethink the vegan thing.  Bill Clinton went vegan and like most everyone, the only thing he missed was cheese.
Cheese is my gateway drug.  It's my favorite dinner as a single girl.  Couple of crackers.  Couple of slices.  Glass of wine.  2000 calories later, I'm looking at the cheese wheel more passionately than I do my vibrator.
So, I dove back into the plant-based life and decided to avoid the fake vegan cheese too.  The first 45 days were great but I fell off the wagon while on vacation.  What was my first infraction?  Cheese?  No, it was god's most divine food:  bacon on a BLT and it was heavenly.  Once in Hawaii, my personal cheating best was ahi poke.
If I were in a 12-Step program, my sponsor would tell me I'm doing good avoiding situations that expose me to cheese.  Now if I can avoid men that cook, I should be able to maintain the lifestyle.