Posted on December 01, 2013 by Marna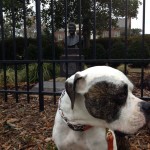 Today was our power-through day – 585 miles – and it was probably good timing because Dixie is "getting" that we aren't going home and we live in the car.  I had every intention to stop at the Oklahoma City bombing memorial but we kept going.  We lost major time east of OKC where I encountered the worst fog in my life.  White knuckle can't see the car in front of me stuff.  After a good 30 miles of that I decided we'd stop in Little Rock at the Arkansas Governor's Mansion where you can view Clinton "through bars" thanks to a roadsideamerica.com recommendation.
After some one-lane good times the last 50 miles, we made it to Memphis.  Monday is going to be a play day to make up for the long Sunday drive.  But Dixie is a trooper.  She loves rest stops, her sponge bob backseat blanket, and hotel continental breakfasts.