Posted on June 12, 2011 by Marna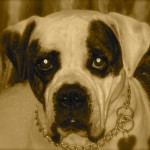 The other day I was searching on OKCupid.   There were six men between the ages of 37 and 60 that were my height or taller, held master's degrees, and lived within 50 miles of me.  I'm serious.  Six men.  I decided I had better luck at finding love on Petfinder and adopted a three-year old american bulldog/boxer mix from my old rescue in Los Angeles.
After a Facebook dog-naming contest amongst my friends, we decided to pay homage to the late, great Tex by naming this girl after a region and getting an "X" in her name.  We settled with Dixie.  I wasn't sure the name was the right one until I stopped in Petco with her on the way home and said "Hey Dix, come here."  I've been saying "hey dicks, come here" for years now, so I kept the name.
We have spent the weekend bonding and she is settling in nicely.  At least a dozen guys have told me I have a "nice dog" this weekend.  Welcome, Dixie, you are my new dick magnet.